WILLIAM GRANT STILL African American Composer TLS 1937 with content & photo Rare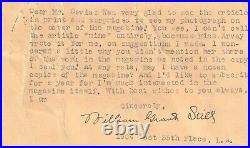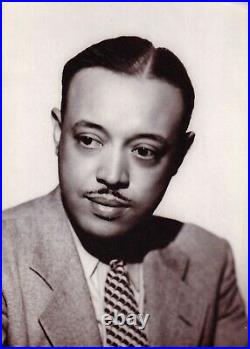 Typed letter signed on a blank postcard to Ray Davis, Editor of The Baton magazine, Los Angeles, date stamped on the verso, October 30, 1937. Offered with a matte, double-weight 5 x 7 photograph suitable for framing. Davis: Was very glad to see the article in print and surprised to see my photograph on the cover of the magazine! You see, I cant call the article mine entirely, because Miss Arvey wrote it for me, on suggestions I made. I wondered a little why you didnt mention her share of the work in the magazine as noted in the copy I sent you! At any rate, may I have a dozen copies of the magazine? And Id like to subscribe for a year for Im much interested in the magazine itself. Arvey was a talented writer and at one point a concert pianist.
Moreover she was the daughter of Russian-Jewish immigrants. She grew up in Los Angeles and met Still in 1930 before he moved to California. After their relation blossomed he moved to California; bi-racial relationships at the time even in California was quite unthinkable and marriage illegal. Arvey was Stills muse and helped guide his career and as one can see from this letter so important to him that he in a very diplomatic way announced his displeasure her name was not used in the article.
They would marry in 1939. On May 15, 2015, NPR posted a blog post by Stills granddaughter, Celeste Headlee, a noted journalist, soprano and musican entitled, Im Black. A portion of the article in a few paragraphs sums up their forbidden relationship that lasted until the composers death in 1978. My grandfather is William Grant Still, the Dean of African-American composers.
His skin was the color of maple syrup. Mine is the color of café au lait. My grandfather suffered countless indignities and injustices because of his color. I remember them still, almost viscerally. They still feel personal to me. When he was going to Oberlin College to accept an honorary degree, he drove from Los Angeles with his family. He couldn't stay at the white hotels because he was black; he couldn't stay at the black hotels because his wife was white.
So he drove 2,300 miles without stopping. In photos of the event, he's stooping; he looks exhausted. I've heard that story dozens of times, and yet, my cheeks feel hot thinking about it even now.
It still makes me angry. My grandparents had to get married in Tijuana because their marriage was illegal in the US. He had to build a six-foot fence around his home to protect my mother and her brother from violence. It was the 1940s and people were dragging mixed-race families out of their beds, beating them, sometimes setting their homes on fire. Still, despite his numerous African American firsts; first to have a non-black orchestra play a symphony (Rochester Philharmonic 1930), first to have a major orchestra play a work (NY Philharmonic 1935), first to conduct a major American Symphony Orchestra in his own works (Los Angeles Philharmonic 1936), first American composer to have an opera performed by the New York City Opera (Troubled Island 1949), first to conduct a major orchestra in the deep South (New Orleans Symphony Orchestra 1955), first to have an opera performed on National television (A Bayou Legend 1981) and all of his other honorary degrees and accolades he still experienced numerous racial incidents, most would be unthinkable today. His relationship with Arvey was well known at the time and as her name was mentioned in the copy, it would appear this was not a mere oversight. A staple rust mark to the left and some light creasing, but complete and historical. Harmonie Autographs and Music, Inc. The item "WILLIAM GRANT STILL African American Composer TLS 1937 with content & photo Rare" is in sale since Tuesday, October 13, 2020. This item is in the category "Entertainment Memorabilia\Autographs-Original\Music\Classical, Opera & Ballet". The seller is "musicantiques" and is located in New York, New York. This item can be shipped worldwide.
Modified Item: No
Country/Region of Manufacture: France
Original/Reproduction: Original
Autograph Authentication: Harmonie Autographs and Music, Inc.
Signed: Yes
Industry: Music