Upson County Georgia Prominent Woman Bequeaths Slaves 1850 Last Will & Testament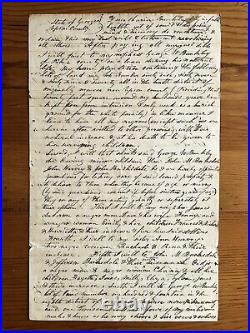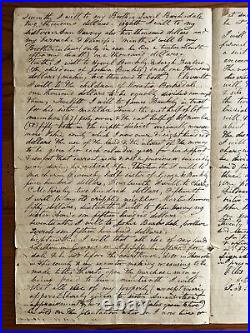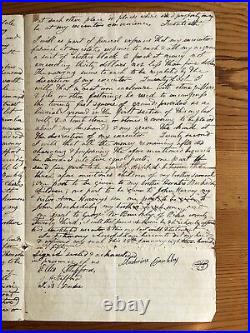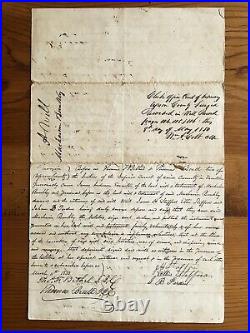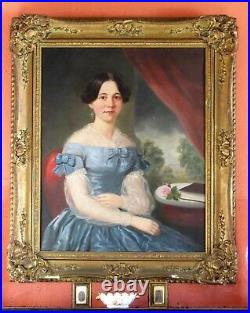 January 28, 1850 last will and testament of Macherine Bunkley of Upson County, Georgia in which she states, in part.. After paying all my just debts I will first to my nephew George W. Bunkley of Pike County on a loan during his natural life my home plantation containing the following lots of land viz lots number sixty six, sixty seven & sixty nine & seventy all in the tenth district of originally Monroe now Upson county (providing that twenty feet square around my husbands grave be kept free from intrusion & only used as a burial ground for the white family) in like manner I loan to him all my negr0es (except such as are herein after willed to other persons) with their natural increase & at his death be given to his surviving children. Second, I will that should said George W.
Bunkley die having minor children then John M. Barksdale, John Harvey & John Barksdale be & are hereby appointed guardians for taking care of said loaned property & to deliver to them when they become of age or marry (by said guardians consent if before sixteen years of age) they or any of them acting jointly or separately at their option. Third, I will to my neighbor James Anderson a negr0 man Dave & his wife Fanny and a negr0 woman Emily & her children Frances & Richard & Henrietta & their increase & five hundred dollars. Fourth, I will to my sister Ann Harvey two negr0 women Rachel & Rena & their increase.
Fifth, I will to John M. Barksdale & Jefferson Barksdale & their sister Susannah Cadjo & a negr0 man & negr0 woman Chancy & all her children Fayette, Isaac, Milly, Eliza, Sylvia, Jonas, & their increase. The varying sums to each to be regulated by the discretion of the executor. Mirah Macharine Barksdale Bunkley (1786 - Feb 27, 1850) married John Bunkley (1757 - 1817) on April 9, 1808 in Warren County, Georgia. She is buried in Bunkley Cemetery, next to the Flewellen Farm House on Piedmont Road in the town of The Rock, Upson County, Georgia. An extensive list of the Bunkley slaves can be found online at files.
A fascinating podcast on Mrs. In it, historian David Paterson talks about how Mrs. Bunkley had drafted different versions of her will and that it was contested for years after she died.
She had 63 slaves at the time of her death. She would take all of her slaves to church with her and saw to it that families were kept together.
Bunkley was a close friend of Benjamin Franklin. It was during this time in France that Bunkley met and married his wife, Marchette. After the war, he and Franklin turned their attention to setting up a Federal Postal System. They traveled well-established Indian Trails that had become pioneer roads. During this travels, Bunkley fell in love with the Georgia Piedmont region. After he retired, Bunkley came back to Georgia and built a one-room cabin for himself and his wife. His homestead, built on Creek Indian land, was situated on what is now Piedmont Road. The property later became the home place of Civil War surgeon and physician E. Bunkley is buried in the Flewellen cemetery next to his wife, Marchette. SIZE: Measures approximately 7 7/8 x 12 3/4 inches. The item "Upson County Georgia Prominent Woman Bequeaths Slaves 1850 Last Will & Testament" is in sale since Wednesday, February 24, 2021. This item is in the category "Collectibles\Paper\Documents\1800-1899". The seller is "abvintagephotos" and is located in Pennsylvania. This item can be shipped worldwide.
Country/Region of Manufacture: Georgia
Time Period Manufactured: 1800-1899