Slavery & Abolitionist 1819 LETTER TO EDINBURGH AN AMERICAN Black Americana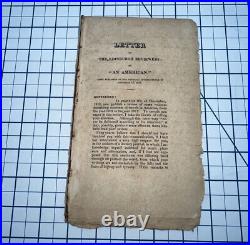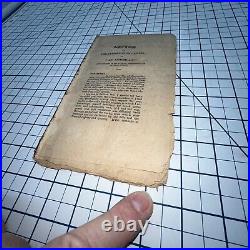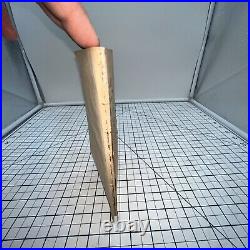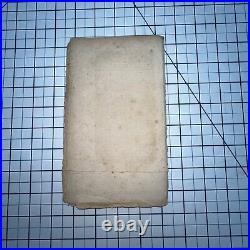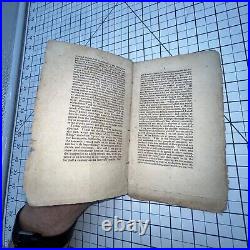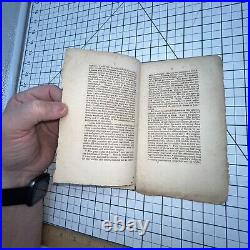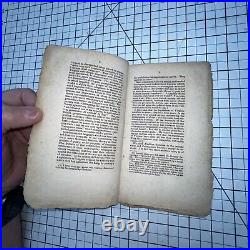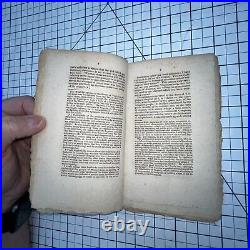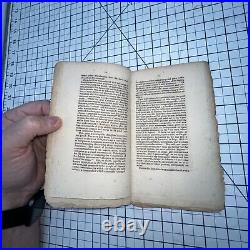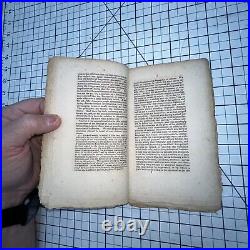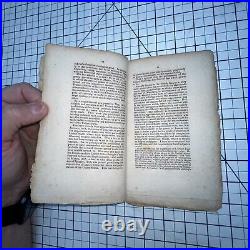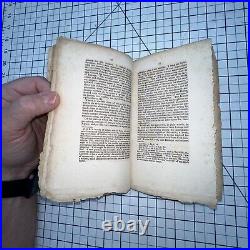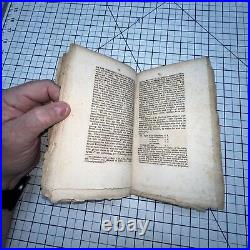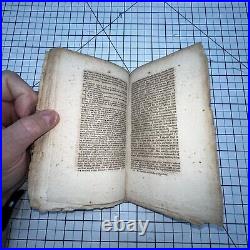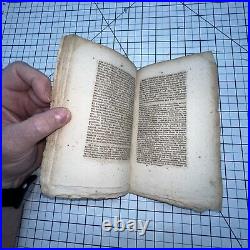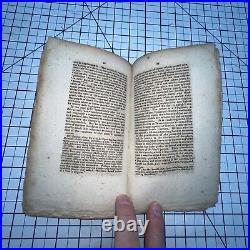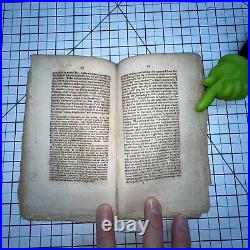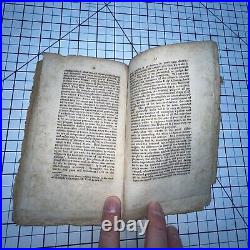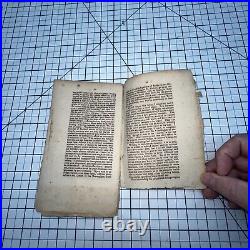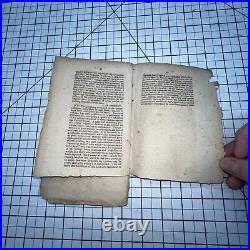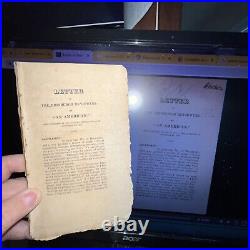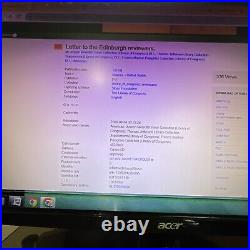 ITEM : Slavery & Abolitionist 1819 LETTER TO THE EDINBURGH REVIEWERS BY "AN AMERICAN". ONLY A FEW OF THESE STILL EXIST IN THEIR ORIGINAL FORM.
NOTE: A QUICK GOOGLE SEARCH CAN ALLOW ONE TO VIEW THIS PAMPHLET TO NOTICE THE FONT, FOXING AND PATINA ARE SIMILAR TO THIS COPY FOR SALE. Would make a tremendous addition to any American History museum collection!
My favorite page is number 49 of the 65. You may view it in the picture with the green hand pointing towards it.
Showing actual words which were written in America's Declaration of Independence, which President Jefferson so eloquently wrote. Prudence, indeed, will dictate that governments Long established should not be changed for light and transient causes; and accordingly all experience has shewn that mankind are more disposed to suffer, while evils are sufferable, than to right themselves by abolishing the forms to which they are accustomed.
THIS ORIGINAL DOCUMENT, LETTER, IS ATTRIBUTED TO GEORGE HAY, SON IN LAW TO THE UNITED STATES OF AMERICA'S FIFTH PRESIDENT JAMES MONROE. THE PRESIDENT DID NOT EXPRESS PUBLICLY HIS FEELINGS ON SLAVERY, AS WELL AS THE RECENT MISSOURI COMPROMISE AND OFTEN USED HIS SON IN LAW AND BUSINESS PARTNER TO EXPRESS HIS FEELINGS. FOR HISTORICAL REFERENCE & IMPORTANCE, HERE IS AN EXCERPT FROM THE JOURNAL OF AMERICAN HISTORY IN MARCH 2019, WRITTEN BY JOHN CRAIG HAMMOND.. In late 1818 the widely read Scottish magazine Edinburgh Review published a scathing critique of southern society, arguing that slavery undermined claims to the superiority of republicanism over monarchism. In the summer and fall of 1819, Virginian planters responded with a series of widely reprinted articles published under pseudonyms such as Hampden. Jefferson & Madison, corresponded with the authors of many of these pieces, providing praise, encouragement, and advice on the content of the essays. As the start of the congressional session neared in late 1819, the authors of these series changed their byline from "To the Edinburgh Review" to "Missouri Question, " or simply began addressing northern restrictionists rather than British authors critical of the South. 17 Hay was among the most prolific essayists.
A member of the Virginia senate, Hay published pieces from November 1819 through February 1820 in the Richmond (va) Enquirer and the Washington National Intelligencer under the moniker An American. Monroe remained publicly silent throughout the Missouri crisis, instead communicating his positions on restriction and expansion through Hay's essays.
As the congressional session opening neared, Monroe suggested that Hay pen a piece showing that congress has no right to admit into the union, any new state, on a different footing, from the old, written with ability & moderation. " Hay responded that he would be "taking precisely the view of that subject which your letter exhibits. " A dutiful son-in-law, Hay delivered two lengthy articles demonstrating that "Congress have no power to impose restrictions on an incoming state or on any federal territory. Throughout the Missouri crisis, Monroe provided Hay with praise, encouragement, tips, and political intelligence on the course of the Missouri question as Hay penned articles and served as Monroe's unofficial spokesman in the Virginia legislature. 18 Hay was unmistakably a radical on the slavery question.
In a conversation with John Quincy Adams, Hay deemed the international slave trade "a child of humanity, " an ineradicable feature of human existence. In his An American essays, Hay maintained that slavery will most probably continue to exist through all succeeding time. " He declared it "an unquestionable truth, that it is not at this moment in the power of human wisdom to devise a plan for the gradual abolition of slavery which does not require for its completion a degree of virtue, philosophy, and moderation, among both whites and blacks, which it would be folly to anticipate. " He deemed emancipation "a plain, palpable, reversal" of the "decree of the Almighty on race and slavery. Hay insisted that there was "no plan" of emancipation that can be devised, which will not bring upon those intended to be relieved, incalculable suffering.
" He counseled that "there are moral as well as physical evils in this world, which no human agency can remove. In Hay's rendering, slavery was not a positive good to be celebrated; instead, it stood as a burden placed on blacks and whites alike by providence. Meddling with the institution only increased suffering for blacks and whites; "Real humanity" required the unrestricted expansion of slavery, to the equal benefit of blacks and whites.
In sum, Hay's An American series constituted perhaps the most wide-ranging, conservative defense of slavery and its permanence published in the United States up to that time. The essays were written with the full knowledge, encouragement, and assistance of Monroe, and with the intent of defeating restrictions on slavery's expansion. Monroe heartily approved Hay's arguments, adding as a postscript to one of the many letters they exchanged that your papers have certainly been well received & produced a great effect. You have sustained the cause of the South & West.
PLEASE VIEW ALL PICTURES AS LIGHTING ON PRODUCT MAY VARY. MOST OFTEN THE DARKER THE PHOTO IS MOST DESCRIPTIVE OF THE ITEM COLOR.
> IF NO PICTURES YET, THE LISTING IS IN PROGRESS... PLEASE NOTE: PRE-OWNED, unless stated otherwise in TITLE.
ACCEPTABLE CONDITION OR BETTER, MAY HAVE SOME IMPERFECTIONS OF SLIGHT WEAR SUCH AS DUST, DIRT OR SLIGHT MARKS. PLEASE SEE ALL PHOTOS AND DESCRIPTION FOR THE DETAILED CHARACTERISTICS OF THIS TREMENDOUS COLLECTIBLE! IF I SEE CONDITION ISSUES, I WILL POST THEM IN THE PHOTOS!
CHECK OUT OUR OCCASIONAL 33% OFF ITEMS AT 5-STAR THRIFT! HUNDREDS OF BOOKS, FANTASTIC FASHIONS AND ANTIQUE COLLECTIBLES. THANK YOU TO ALL OF OUR GREAT CUSTOMERS.