Original Hobart Taylor Sr & Jr Documents African Amer. Pioneers'affirm Action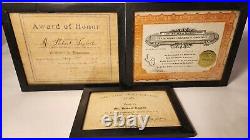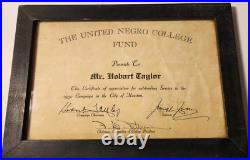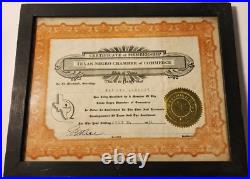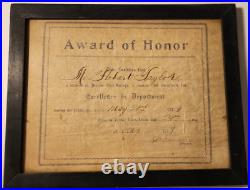 [AFRICAN AMERICANA, BLACK BUSINESS, TEXAS NOTABLES]. On offer here is a group of 3 ORIGINAL DOCUMENTS FROM THE HOBART TAYLOR FAMILY DOCUMENTING THE IMPORTANT HISTORY OF AN ICONIC FAMILY IN AFRICAN AMERICAN HISTORY. An important Houston businessman and his son Hobart Taylor Jr.
Are represented by these 3 documents. 1 An' Award of Honor' issued to Hobart Taylor Sr. While he was at Prairie View College (now Prairie View A&M) in 1918 for'Excellence in Deportment'.
2 A' Certificate of Membership in the Texas Nxgro (we can't spell this correctly because Ebays ignorant algo flags it) Chamber of Commerce' for Hobart Taylor Sr. For his highly successful H&T Cab Company in 1951. 3 A' Certificate of Appreciation' for Hobart Taylor Jr.
And signed by his Father Hobart Sr. For the United Nxgro College Fund in 1950. Each of these documents are important and representative documents (see their bios below) in the history of the Taylor family a outline decades of professional achievement, perseverance and selfless social investment in their community and in the interests of the larger African-American community.
Taylor (1890 - 1972) was born in 1890 in Wharton, Texas, to Millie (Wright) and Jack Taylor. Jack Taylor, a former slave, who had become an entrepreneur and landowner, had acquired 2,000 acres of farmland in Fort Bend and Wharton Counties by the time of his death in 1895 when Hobart was five. Hobart Taylor completed high school in Wharton in 1913 and attended Paul Quinn College in Austin and later, Prairie View A&M University in Prairie View, Texas where in his senior year (1917) he was captain of the baseball team. There, he became the first salesman to write one million dollars' worth of business in a single year. Although restricted to the black neighborhoods by the Jim Crow laws of Texas, Taylor's taxi business thrived particularly as thousands of African Americans migrated into Houston during World War II and the 1950s. By the time of his death in 1972, Taylor's taxi cab business had grown into a multi-million dollar financial empire which now included real estate and oil wells. Also was a political and community activist who in the 1930s and 1940s played an important role in helping to finance the court cases brought by black Houstonians to declare the Texas White Primary unconstitutional in 1944. He was also one of the first major contributors to the United Nxgro College Fund (UNCF) when it began in 1944.
Four years later Taylor provided financial support for Lyndon Baines Johnson in his successful U. Johnson in turn appointed Taylor as a Texas delegate to the 1956 National Democratic Convention. In 1960, Hobart Taylor, Sr. And his son, prominent Detroit attorney Hobart Taylor, Jr. (December 17, 1920 - April 2, 1981) was an American attorney and civil servant who was Special Legal Counsel and the Executive Vice Chairman of the President's Committee on Equal Employment Opportunities, the forerunner to the Equal Employment Opportunity Commission from 1961 to 1965.
He was the first non-white person to direct the staff of a presidential commission. He is credited with coining the phrase "affirmative action". He was appointed Associate Special Counsel to the President in 1964, making him one of the highest-ranking African Americans in the U.
He left the commission and the White House staff in 1965 to become a director of the Export-Import Bank of the United States, serving until 1968.