No Time for Romance Very Rare 1948 Window Card Display Eunice Wilson Bill Walker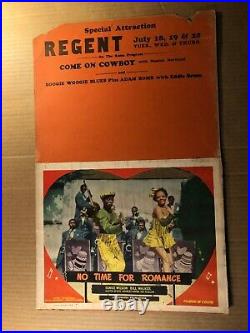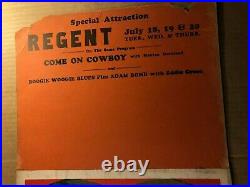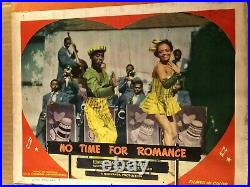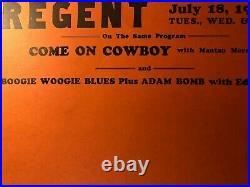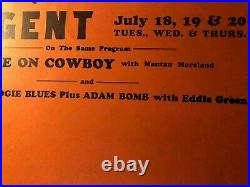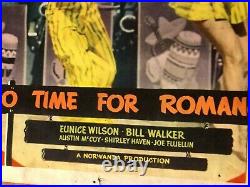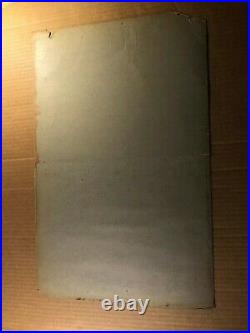 Here is an extremely rare early vintage original 14" by 22" window display card for the 1948 black movie musical No Time For Romance, starring Eunice Wilson and Bill Walker, shown at the. 1912 7th Avenue, New York, NY 10026 in Harlem. Made up of an original lobby card and the Regent's original window card.
Summary of No Time For Romance. The movie contains wonderful Black acting, singing, and dancing talents. Eunice Wilson is wonderful in her role. She's one of the all-time forgotten greats. Austin McCoy is very entertaining. His music makes the movie. I'm surprised he isn't remembered and ranked with Duke Ellington and Count Basie. Austin McCoy Bebop/Jazz is out of this world. Little cutie Shirley Haven is appealing. What always makes this film exciting is it's the only Black cast film filmed in Color. I wish more would have been filmed in color. This movie is about a unconfident composer who's discovered by a singing star and both of them make each other's dreams come true while overcoming a jealous has-been plan to ruined them.
Also, advertises 1948's Come On Cowboy starring Mantan Moreland, Johnny Lee, F. Eunice Wilson was one of the top entertainers of the 1930s of Black Entertainment. She was called the best. An exceptional song and dance girl she was, her dancing reminds you of Michael Jackson.
She was an example of what hot/swing dancing was all about added with class. She was the definition of what a performer must be, she had talent, beauty, spark, personality, magnetism and a heart and love for her abilities, those were the ingredients that won her fame quickly and won her respect from her contemporaries and admirers in the U. And Europe and made her one of the main attractions in the most popular nightclubs and theaters. In her youth she was a fun type of performer, not just on stage and screen to show off her abilities but there because she really loved what she was doing and audiences saw that and it rubbed off on them to have fun. Eunice was a good time gal, she was the new type of Black, she wasn't the sad, bluesy type of performer but sexy, proud, full of song and dance and love.
Eunice found fame quickly, rising above many who were just as good and had been in the business longer than her but because she had an innate, immense talent of songs and dance and a charming presence that was enticing and couldn't be forgotten. Eunice was a rare female dancer because her dancing could top any men, she was much more than a hip shaking, shimmy dancer.
In 1936, Eunice joined the show of the famous Lew Leslie's Blackbirds of 1936, where there was plenty of great talents but Eunice stood out, she won favorable reviews and pleasing compliments from royalty. Eunice was in 3 movies that are available that feature her excellent dancing and singing and in 2 films she was a pleasant actress as well. In 1948, Eunice starred in "No Time for Romance, " one of the best of Black Cinema and the first black film in color. She was a bit heavier and older but classier and glamorous and she still had the talent of singing a song to the heart that couldn't be resist. She was an interesting woman on and off stage.
Eunice Wilson is and always will be the personification of what made Harlem and Black entertainers of the 1930s and 1940s greats. To this day, her performances in movies is still wowing people. Bill Walker was born on July 1, 1896 in Pendleton, Indiana, USA as William Franklin Walker. He is known for his work on Big Jake (1971), Tick, Tick, Tick (1970) and Hush...
He was married to Peggy Cartwright. He died on January 27, 1992 in Woodland Hills, Los Angeles, California, USA.
Was married to original'Our Gang' leading lady Peggy Cartwright, one of the early interracial marriages in Hollywood. In recalling his courtroom scene in To Kill a Mockingbird (1962), Gregory Peck recalled the vital contribution of Bill Walker, who was cast as Reverend Sikes. "All the black people in the balcony stood, " Peck noted. My two kids didn't.
When Bill said to them'Stand up, children, your father is passing,' he wrapped up the Academy Award for me. The son of a freed slave. He was a tireless worker in the field of Civil Rights, frequently laying both his career and his life on the line. In the filming of, What Ever Happened To Baby Jane? (1962), Bill Walker appears delivering a package to Jane Hudson (Bette Davis) at the side door to the Hudson home.
The scene did not make it into the completed film but movie stills exist of the scene. He was a veteran of World War I.
The item "No Time for Romance Very Rare 1948 Window Card Display Eunice Wilson Bill Walker" is in sale since Tuesday, February 23, 2021. This item is in the category "Entertainment Memorabilia\Movie Memorabilia\Lobby Cards\Originals-United States\1940-49". The seller is "pengang" and is located in Marietta, Georgia. This item can be shipped worldwide.