Guaranteed Authentic 1825 Charleston Slave Hire Badge Servant J. J. Lafar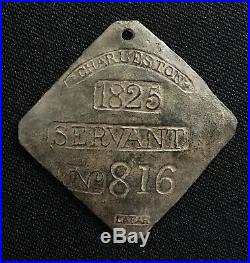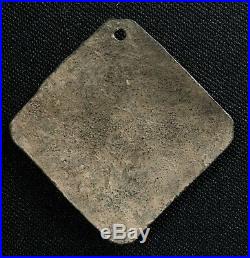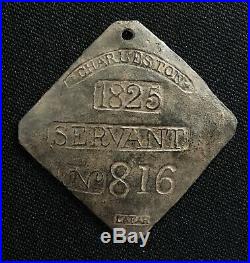 1825 CHARLESTON SLAVE HIRE BADGE. 1825 Charleston SERVANT Slave Hire Badge, Number 816. A slightly convex diamond-shaped badge with clipped corners and a hole at the top for suspension, approximately. By 2 ½ inches (65 mm x 65 mm).
In a prepared lunate punch at top. 1825 in a rectangular logotype punch below. SERVANT underneath in a prepared, rectangular punch. In a prepared, square punch. 816 in individual numbers punched below.
LaFAR in a prepared, rectangular punch at base. "LaFAR" hallmark of Charleston silversmith John Joseph LaFar. The badge is in extremely fine condition with a pleasing dark brown patina.
It was dug, with permission, on a plantation site south of Charleston. Here are two auctions records for 1825 SERVANT Charleston slave hire badges. Heritage Auctions, Dallas, Texas, June, 2006.
In as good condition as the item we are offering. Heritage Auctions, Dallas, Texas, February, 2007. This badge is not in as good condition as the item we are offering.
Recently I received an award for the Best Educational Exhibit for my display entitled, Charleston Slave Hire Badges: First Glimpse of Freedom at the American Digger Low Country Civil War show in Mt. Here is some information about. Question What exactly is a Charleston Slave Hire Badge? Answer The city of Charleston, S. Enabled slave owners to contract the.
Services of their laborers for one year, provided a mandatory license. A small copper badge was proof that the license was. Obtained and the hired-out slave was required to wear the badge on. How long did the Slave Hire System exist in Charleston and were their other. Jurisdictions that issued Slave Badges? Charleston began licensing annual slave hire badges in 1800 and continued the. Practice until the city was occupied by Federal troops in February of 1865.
Although other southern cities like Savannah and New Orleans had enacted. Regulations for the hiring of slaves, only Charleston and for three years. How were slave badges manufactured and what information appeared on the. The small copper badges (sometimes called tags) were marked by stamping.
Words with a metal die, by engraving with a stylus and by punching individual. All slave badges contained four pieces of information. CHARLESTON was stamped with a crescent shape die at the top of the. The occupation of the slave was also stamped in the badge but with a. The date of issuance for the badge was originally punched. With individual characters, then engraved with a stylus and later stamped with a. The serial number of the badge was punched. The size and shape of the.
Badge (circular, diamond, octagonal, and square) varied from year to year. Enabling the viewer to determine if the badge was current for the year. Who made the slave hire badges? Charleston contracted with various engravers and silversmiths to produce the. Badges including Ralph Atmar Jr, Charles Prince, John Joseph Lafar.
William OConnor and William Rouse. Atmar, Prince and Lafar marked. Their work with their names. You mentioned that the occupation for the hired slave was imprinted on the. What were some of the licensed occupations? The largest number of slave badges issued were for domestic help and were. Slaves who were hired out in the commercial sector. Were listed by occupation such as PORTER, FRUITERER, MECHANIC and. There was even a badge for HUCKSTER. How many badges were issued in a given year and are the names of the slaves. And owners recorded for particular badges?
In 1841 Charleston City Council required a registry that listed slave. Names arranged alphabetically with their respective age and employment. Together with their owners name. Unfortunately, these municipal records are.
The number of badges issued for any given year can only be. Estimated based on the known revenue records and census reports. For example in 1850, 4,480 badges were issued.
Was there a stigma to wearing a Slave Badge? That very question was asked of a former slave who replied that there was. She was referring to the fact that.
Many slaves who were hired out to work were compensated for their good. Service at the completion of the contract. Where can I see examples of authentic slave badges? The Charleston Museum has the largest collection of slave badges on. The Confederate Museum and the Old Slave Mart Museum.
In Charleston have exhibits with slave badges, as well as the. Of African American History, Washington a. Nd the Chicago History Museum. The item "GUARANTEED AUTHENTIC 1825 CHARLESTON SLAVE HIRE BADGE SERVANT J. LAFAR" is in sale since Sunday, January 26, 2020.
This item is in the category "Collectibles\Cultures & Ethnicities\Black Americana\Other Black Americana". The seller is "balltowne" and is located in Warrenton, Virginia. This item can be shipped to United States.