Free Soledad, Angela Davis, Black Panther Party, Civil Rights Freedom Poster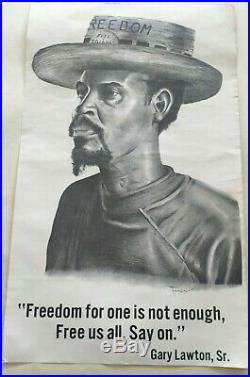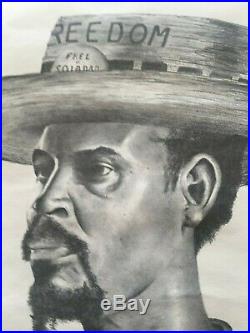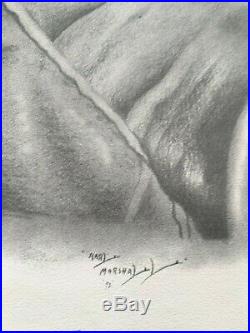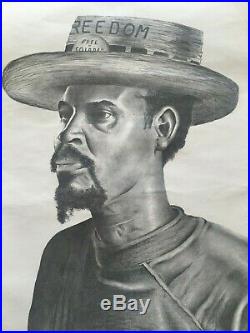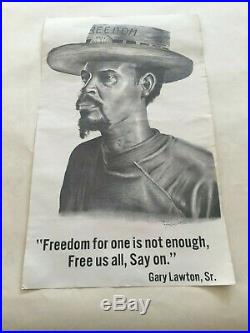 Free Soledad Brothers, Angela Davis, Black Panther Party, Civil Rights Freedom Poster.. Important part of American history and the Black Power Movement. This is an original poster from 1972 in good condition. Suitable for framing and adding to your history collection.
A freedom fighter, a brother, my old friend remembered. For the majority of women and men in our society, the cultivation of creative abilities, the equality in opportunity, and the freedom from coercion and oppression envisioned in the American dream are empty phrases.
The human implications of these phases never penetrate the factories and the mines, or the cold, dead ghetto walls. But there are those women and men who feel such a deep and abiding commitment to the dignity of all working people that they will brave the most despicable outrages of repression and retribution in their attempts to expose the injustices of the American social and economic system. These individuals are rare indeed, for they pay a high price for their commitment to those silenced by poverty and the discipline of the workplace. Gary Lawton is such a man. His confinement, as we shall see, is testimony to the fact that the ruling powers in the community of Riverside felt obliged to silence him.
Thus begins "The Frame-Up: Outrage in the Desert: The Political Trial of Gary Lawton, Nehemiah Jackson, and Larrie Gardner, " the political statement developed by the Riverside Political Prisoners Defense Committee (The Committee) in 1972. The statement was created to help with the struggle to free these three men from jail and charges of murdering two police officers in their hometown of Riverside, in southern California on April 2, 1971.
Officers Christian and Teel were killed by unknown assailants in an ambush at the edge of Riverside's East Side community. Before they died they radioed for help, and within minutes an army of police besieged the black community. Heavily-armed, totally disorganized and in a state of near-panic, they stopped, searched and terrorized anyone who was unfortunate enough to be in the area. An early report of four men escaping on foot described them as three white teenagers and one short black man with an Afro haircut.
Gary Lawton, a well-known community activist, was 33, six foot three and partially bald. Larrie Gardner, a street kid from the East Side, was in his early 20s and also over six feet tall. Nehemiah Jackson was a young divinity student at a Bible college in the desert near Riverside. Larrie and Nehemiah were the unfortunate victims of an attempted frame-up of Gary by the Riverside police department and the prosecutor's office under heavy pressure to get the cop killers captured, convicted and on death row as quickly as possible. In the panicked and disorganized state the police were in the night of the murders, they let the real killers escape.
Some of the police in Riverside used the murders that night as an excuse to vent their panic, frustrations and racist hatred against blacks throughout the East Side. One in particular, Ronald Lund, used this as an opportunity to "get" Gary Lawton for these crimes. Lund's testimony was to be critical to the prosecution's case against Gary.
In the beginning, Gary was their only target. He cooperated freely with them in their investigation and took and passed a series of lie detector tests. In spite of this, the police collected "evidence" sufficient to arrest and get a grand jury to vote to indict Gary. They also developed a conspiracy theory as a backup plan to getting just Gary and for some reason still unknown to me, roped Larrie and Nehemiah into the case.
The first time these three men ever set eyes on each other was at their first pretrial hearing yet "evidence" would prove they conspired to kill the two officers. This evidence proved later to be shown as threatened and bullied prosecution witnesses' testimony, all of whom recanted their early testimony at the grand jury that indicted these three men during the first of three trials, claiming all their testimony of Gary's participation in the murders was false, driven by the threats made to them by the detectives and prosecutors in the case. The only evidence proved to be truthful was Gary's history as a black militant and trouble maker. This included his community organizing activities in 1968 to have a park named in memory of Dr.
Martin Luther King after his assassination; and his leadership in a citizen's police complaint council established to investigate and mediate police brutality complaints within the black community an idea vehemently opposed by the Riverside Police Department. Gary helped found the Black Congress, a multiracial group that dealt with problems facing communities of color. Activities of the Congress included: boycotting stores that inflated prices in the black community while refusing to hire from within the community; development of safe, affordable low-income housing; support for a protest by black nurses of racist practices by the administration of a local hospital (led by Chukia Lawton, Gary's wife, herself another leader within the community); continued complaints about police brutality. Gary and Chukia also organized aid for some in the community flooded out of their homes in 1969, finding them homes, furniture and provisions. By early 1971, Gary and Chukia and the Black Congress were involved in the defense of William Palmer, a black man shot in the back as he walked away from the police.
The police had charged Palmer with resisting arrest. It was this history as an activist that led to Gary's arrest for the murder of these two police officers in early 1971.
Gary, Larrie and Nehemiah were arrested and charged with two counts of murder and conspiracy to commit murder. They were held without bail from early 1971 to their release from jail at the end of their first trial in 1973. These three men spent two years in jail without a right to see their friends and children. Chukia was the only person allowed to visit Gary.
So how did Gary, Larrie and Nehemiah eventually have all these charges dropped and become free from this repression? Why did Gary not end up spending the majority of his life in prison like Hurricane Carter, another black man charged with murder by a racist police and prosecutorial conspiracy? The answer is as American as apple pie. It resulted from a lot of hard work by committed activists from Riverside and those around the country who heard about the case and took it up as part of a struggle to free political prisoners throughout the United States. The local VVAW chapter adopted this case in early 1971.
It eventually became a regional and then a national effort by VVAW to free Gary and his two codefendants. VVAW knew only too well that political repression can take the form of arrest and trial on trumped-up charges the Gainesville Eight trial and other less well-known trials around the country made it quite clear. Gary, a former Marine, joined the list of activists harassed by local authorities through the use of the legal system. VVAW helped found the Riverside Defense Committee shortly after meeting with Gary's wife, Chukia Lawton. The committee developed into a multicultural, multi-organizational planning group providing support for the legal defense and community support of Gary and the other two defendants.
A word about Chukia Lawton. For me, there has never been a better example of a person guided by great feelings of love then Chukia. Love for her community, love for the most oppressed in our society. Love of her family and love for her husband.
While she was still allowed to work, Chukia took care of her job and her family and still found time to work full-time on the Defense Committee. She had little patience with those who turned away from the struggle, yet had an abundance of patience for the failings of others and always a warm smile for all of us during a sometimes very dangerous struggle. A word about my role in all of this.
I believed and still do today that Gary and the other two men had nothing to do with these murders. Gary was charged because of his political activism thus his status in my mind as a political prisoner. I found out about the situation in 1971, when I met Gary's wife Chukia at an informational meeting that was called to discuss supporting Gary.
This led to three years of intense community organizing, fundraising and speaking out on Gary's behalf as the local VVAW chair. For the most part, I was tasked with ensuring the community-organizing component of the effort ensuring that it happened and that it was coordinated with the legal effort.
VVAW helped locate lawyers for the legal defense as well as people for the door-knocking, community canvassing, leafleting and speaking required to maintain community awareness and interest in the trial. The first trial of the "Riverside Three" was moved out into the desert to Indio, a mostly-white retirement community, in the hopes of an easy guilty verdict of these three "scary" urban black men. Among other things, I become known as the "movement mechanic" during this time, keeping old poorly-maintained cars on the road each day transporting community residents to the trial so Gary could see the support he had. I found out later that having people show up every day for the trial was the only thing that helped the three men get through without losing their sanity. The night we were able to get Nehemiah Jackson out of jail on bail he walked right up to me, threw his arms around me and whispered, Thank you; you have saved my life. I had never met Nehemiah before. I was surprised that he'd recognized me. Apparently seeing my face throughout the trail helped him more than I ever knew. Our lawyers and defense committee members were housed in two cheap hotel rooms in Indio, often not leaving the rooms for days because of the work, except to go to the courtroom.
They worked 18-hour days for no pay. They lost their health, and in one case, a job. These beautiful "Norman Nobodies" fought hard and saved the lives of these three men!
They are what can make this country the great country it can be. One of the many community events that we organized during this time included one event with speakers including Bobby Seale of the Black Panther Party, Paul Bocanegra of La Raza Unida Party, William Palmer from the Riverside Defense Committee, Tony Russo (codefendant in the "Pentagon Papers" trial), and our own Barry Romo from the National Office of VVAW. It was a major success and led to a tremendous amount of positive and honest media coverage of this situation for the first time. The first trial ended in a hung jury, with nine people voting for acquittal and three for guilty. All of the major witnesses for the prosecution recanted their testimony and said they'd had no idea who actually killed the police officers.
Officer Lund, the first officer on the scene, testified that he knew Gary was guilty because he talked to him just minutes after arriving at the murder scene. He later admitted that "he might have imagined seeing him" he never saw Gary that night. Under intense cross-examination he admitted to the following statements made during an in-house interview about the night of the murders: I was looking for niggers on the night of the murder. That's what I want to kill is a nigger right now.
I want to kill him worse than anything I ever wanted in my life. On the day the trial ended, many of the jurors came over to Gary and gave him hugs and wished him well.
We were finally able to get bail set for these three men after they had spent two years in jail without a chance to visit with friends, and in Gary's case, to see his two children. Our original lawyers were burned out by the first trial; they had left town.
Our committee went back to work and was able to get John Thorne, lawyer for George Jackson, to represent Gary at the bail hearing. One of the people who sent us a couple of hundred dollars was Jon Voight of "Midnight Cowboy" fame.
I remember the night before we were to get Gary out of jail. We bailed Gary out of jail that hot dark night in the summer of 1973. As we walked from the jail to the bail bondsman's office, 30+ police officers ran their cars' sirens, flashed their lights, "jacked" shells into their shotguns and yelled "nigger lovers" at us as we passed the sheriff's department. Was real that night in Riverside, California.
The moment of pure joy for me was being with Gary when he saw his children for the first time in two years. They'd gone from kids to teenagers while he was in jail. Every scary moment was paid for by this wonderful moment. All during this time Chukia was harassed by the police, fired from her job as a nurse and her children were attacked at school.
I spent most of every waking day for two years with this beautiful woman. She never hesitated, she never faltered.
She was always ready to comfort one of us too afraid to go on. Many other members of the committee were harassed, followed, stopped for no reason by the police, fired from their jobs or warned not to continue with these activities.
It was also during this time that I saw the human side of Gary. My daughter was born in 1973. The day after her birth, Gary and Chukia turned up at the hospital to congratulate us on the birth of our daughter, kisses all around for mom, passing the baby back and forth throughout the visit. Later that night I sat in Gary and Chukia's kitchen drinking beers, celebrating the birth of the littlest radical in the town and the youngest member of the Defense Committee!
The second trial occurred in Riverside, Gary's hometown where the murders had taken place. The prosecutor gave up on Nehemiah Jackson the Bible student and sent him home, dropping the charges against him. Gary and Larrie, black militant and street kid, would be tried together. Unfortunately for the prosecution, all of their witness continued to tell the truth Gary and Larrie had nothing to do with the murders. It ended in a hung jury with eight for guilty and four for acquittal.
For the first time in California's legal history, a man (Gary Larrie had been dropped from the case, and it was back to where it had begun: an attack on a black "militant") was tried a third time for a crime of which he had never been convicted. The third trial was to be held in Riverside again but later was moved to Los Angeles. For the first time, the jury included people of color.
The jury was out less than an hour and found Gary innocent of all charges. By this time, I had moved to Ohio with my wife and two children.
I received a call from one of my former organizer friends with the news of Gary's acquittal, and danced and cried and laughed late into the night. I later lost track of Gary and Chukia, but have always held them close to my heart. To hear Gary has passed profoundly saddens me.
He and Chukia fought for freedom for all of us. I have no doubt that after they moved to the Bay Area to provide safety for their children (who were beginning to be harassed by the police) they continued the fight. This has been a difficult article to write.
It's not objective; it is my view of events. It is almost impossible for most people in this country to imagine a story like this. The lesson for today is this: if the anti-war movement begins to be seen as a real, organized threat, the government will attack and harass activists through the legal system in an effort to exhaust, divert and bankrupt the movement. We need to be ready for this to happen and we need to be strong in our defense of the leadership who will be targeted first.
Shout Out to Chicago, "All Power to all the people", and Justice System Reform Now! The item "Free Soledad, Angela Davis, Black Panther Party, Civil Rights Freedom Poster" is in sale since Wednesday, November 27, 2019. This item is in the category "Art\Art Posters". The seller is "morpheus2418" and is located in Chicago, Illinois. This item can be shipped to United States.
Artist: Karl Marshall
Style: Vintage
Listed By: Dealer or Reseller
Date of Creation: 1972
Year: 1972
Features: Signed
Width (Inches): 12
Color: Black
Subject: Art In The Age Of The Black Power Movement
Originality: Original
Height (Inches): 19