Circa 1880's African American Woman Original Charcoal Photo Portrait Cherokee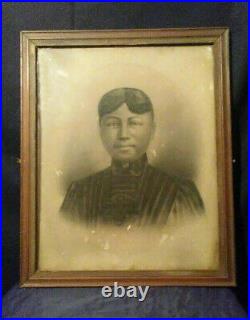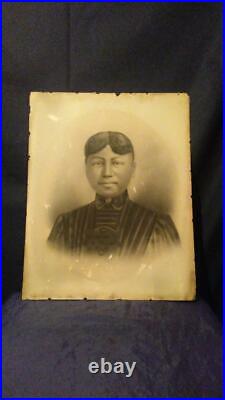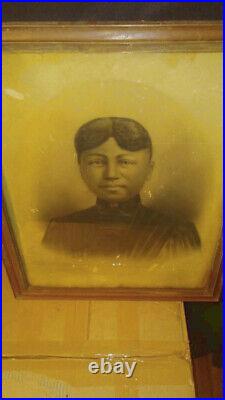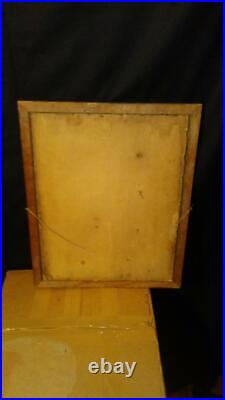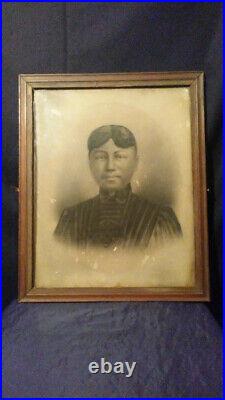 CIRCA 1880'S AFRICAN AMERICAN WOMAN ORIGINAL CHARCOAL PHOTO PORTRAIT. Slight wear and chipping along edge of photo (SEE PHOTOS) 16"x20". POSSIBLY LUMBEE, CHEROKEE, CREOLE (EUROPEAN AND AFRICAN AMERICAN DESCENT) MIX? 1800'S CHARCOAL PHOTO PORTRAITS OF AFRICAN AMERICANS ARE EXTREMELY RARE, I HARDLY EVER SEE THEM, MOST THAT TURN UP ARE OF WHITE PEOPLE, THIS WAS FOUND IN NORTHEAST GEORGIA AND THE FACT THAT THIS PORTRAIT WAS EVEN DONE TELLS US THAT THIS WOMAN WAS OF FAIRLY HIGH FINANCES AND SOCIAL STANDING.
THESE PORTRAITS WERE FAIRLY EXPENSIVE TO HAVE DONE, GENERALLY ONLY BY THE UPPER MIDDLE TO UPPER CLASS. AN AUTHENTIC ORIGINAL PIECE OF BLACK AMERICANA, POST CIVIL WAR POST SLAVERY RECONSTRUCTION ERA, AS MORE AFRICAN AMERICANS WERE JUST BEGINNING TO BECOME UPWARDLY MOBILE.