C1930 The Courtyard of the Two Sisters at 613 Royal St. By Stanley Clisby Arthur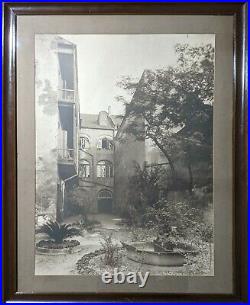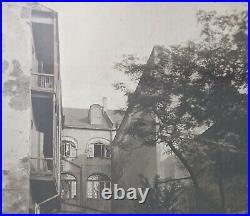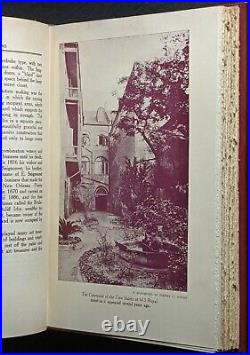 The spacious and muchly photographed courtyard at one time had in the rear left-hand corner a fountain, from which a little fat bronze cupid blew water from out a twisted ram's horn. The little copper Eros is now installed in another delightful patio at 731 Royal street. Stanley Clisby Arthur The Courtyard of the Two Sisters at 613 Royal Street. Original large format photograph by eminent Louisiana historian and author Stanley Clisby Arthur, c1930. Featured in his Old New Orleans: A History of the Vieux Carré, its Ancient and Historical Buildings, plate facing p.
Silver gelatin print mounted to board, matted in contemporary wood frame. Measures 33 x 26 1/4 inches - sight: 25 3/4 x 19 inches. Needs professional attention, reframing, excellent condition overall.
In 1726, 613 Rue Royale was built as a private residence, but in 1886 Bertha Angaud and Emma Camors turned it into The Shop of the Two Sisters. Even before the sisters moved in, the courtyard was renowned for its legends: Marie Laveau practicing Voodoo at its well (aptly named Devil's Wishing Well), Queen Isabella blessing its gates to charm whomever touched them, and Jean Lafitte dueling and killing three men in one night under the courtyard's willow tree.
In 1963 Joe Fein Jr. Leased 613 Rue Royale and created the Court of Two Sisters restaurant. Today the Fein family still runs the restaurant and pays for the upkeep of the Camors sisters' graves. The courtyard is the site of daily brunches with live jazz music.