BERENICE ABBOTT René Crevel, 1928, EARLY SILVER PRINT Original SIGNED Photograph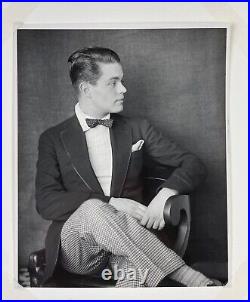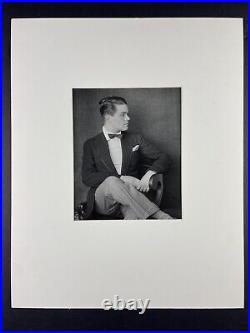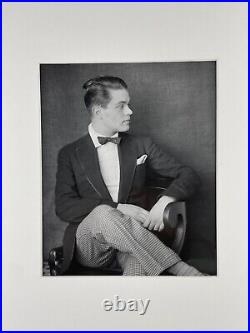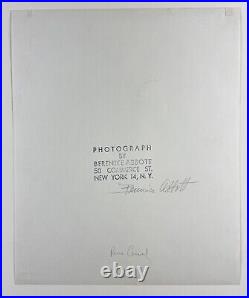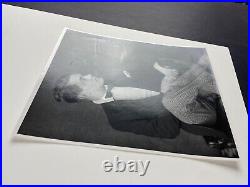 Portrait of Rene Crevel, 1928. 10 x 8 inches, with Abbott's signature, title, negative number "16r" and Commerce St. Hand Stamp verso with the pre-1963 date.
The label from the Rosenthal Collection states this as an "early print, printed 1940s, " it is certainly pre 1963, and I think likely printed in the 40s or 50s. Overall excellent condition there is a small amount of retouching which apparently present in other prints of this image (a line on Crevell's face and an area in the crotch, as well as a few other tiny specks) Otherwise the print is in excellent shape. There are remnants of matting hinges verso. The print is currently cornered into an archival 16x20 mat. Please examine images for condition.
Rene Crevel, born into a Parisian bourgeoisie family, endured a traumatic religious upbringing. Tragically, at the age of fourteen, his father committed suicide by hanging himself. Crevel pursued studies in literature and law at the University of Paris, where he became involved with the Dada movement, collaborating with Tristan Tzara. He later immersed himself in the Surrealist circle, forging connections with notable figures like André Breton.
During this time, Crevel embarked on a passionate love affair with American artist Eugene McCown, which exposed him to a bohemian milieu that included Nancy Cunard, Francis Scott Fitzgerald, and others. From 1924 onwards, Crevel delved into writing novels such as "Détours" and "Mon Corps et moi" ("My Body and Me"), extensively exploring themes of fear, revolt, and existential unease. His novel "La Mort difficile" ("Difficult Death"), published in 1926, depicted his lover McCown as the character Arthur Bruggle.
Although the publication marked the end of their romantic relationship, Crevel remained close to McCown until his own demise. In 1924, he was diagnosed with tuberculosis, leading him to frequently seek treatment in sanatoriums, particularly in Switzerland.
The exile of Léon Trotsky in 1929 prompted Crevel to rejoin the Surrealists, where he endeavored to reconcile the communist and Surrealist movements. Additionally, during a brief visit to Berlin in 1928, Crevel fell in love with Dorothea, the daughter of Carl Sternheim. Throughout his literary works, he grappled with the complexities of his involvement in communism and his bisexual identity. Sadly, on the night of June 18, 1935, just a few weeks before his 35th birthday, Crevel took his own life by turning on the gas stove in his kitchen, mirroring the method he had described in his debut book. There were two primary factors leading to this tragic decision.
Firstly, a conflict erupted between Breton and Ilya Ehrenburg during the "International Congress of Writers for the Defense of Culture" held in Paris in June 1935. Breton, along with other Surrealists, had been insulted by Ehrenburg's pamphlet, which claimed that surrealists were pederasts. In response, Breton slapped Ehrenburg multiple times, resulting in the expulsion of the Surrealists from the Congress.
Crevel, regarded by Salvador Dalí as the "only serious communist among surrealists, " spent an entire day trying to convince delegates to readmit the Surrealists, but his efforts proved fruitless. Secondly, it was reported that Crevel learned about his renal tuberculosis diagnosis immediately after departing from the Congress. In his farewell note, he requested the cremation of his body, expressing his profound sense of loathing.
Crevel's affirmative response to Breton's question Suicide: Is It a Solution? In the journal La Révolution surréaliste in 1925 reflected his belief that it was indeed the most probable, correct, and ultimate solution.
All photographs will be securely flat-packed using multiple layers of cardboard and packages will be marked Fragile/Do Not Bend. To see other photographic listings.