Antique Harlem Airport Near Chicago Possible Tuskegee Airman Pilot Rare IL Photo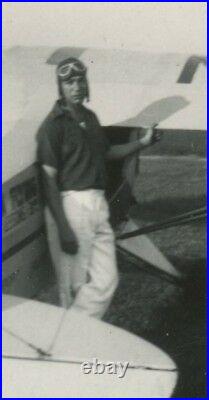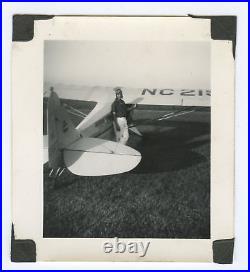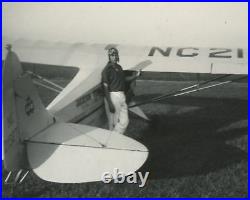 An original photograph measuring approximately 3 x 2 5/8 inches a. Ttributed to be at the Harlem airport in Oak Lawn, IL; adjacent to Chicago, the former home of the Cornelius Coffey in the Coffey and Jackson Flying School in Chicago. In the late 1930s, Mr. Coffey established the Coffey School of Aeronautics, at the former Harlem Airport at 87th Street and Harlem Avenue.
From 1938 to 1945, upward of 1,000 students went through the school, including many of the Tuskegee Airmen, blacks who flew combat missions over Europe during World War II. See more about Lewis A. Jackson and Cornelius Coffey below. The Harlem Airport was located in the Chicago adjacent town of Oak Lawn, IL, southwest of Midway Airport. The date of construction of Harlem Airport has not been determined.
The earliest reference to the field which has been located was in The Airport Directory Company's 1933 Airports Directory (courtesy of Chris Kennedy). It described Harlem as a commercial airport, measuring 140 acres in size. The field was said to have 4 sod runways, with the longest being the 2,000' east/west strip.
Hangars & buildings were said to be located on the southwest side of the field. Harlem Airport was evidently closed (for reasons unknown) at some point between 1954-56. Source: Abandoned & Little-Known Airfields: Illinois, Southern Chicago area.
Jackson was born on this date in 1912. He was an African American aviator, innovator, educator, and administrator. He was born in Angola, IN, and while still in grade school, he made model airplanes and read about crosswind landings in encyclopedias.
At the age of 15, he had his first ride in an OX5 Swallow. In 1930, Jackson began formal flight instruction and by 1932, with five different pilots providing instruction, Jackson soloed in his own Waco 10 airplane. That same year, he earned a B. Degree in Education at Indiana Wesleyan University. He taught in the public schools.
But his real love was flying, and in 1940, he joined Cornelius Coffey in the Coffey and Jackson Flying School in Chicago, and completed advanced acrobatic training at Chicago School of Aeronautics. In October of this same year, he went to Tuskegee where, he was appointed Director of Training at the Army Air Corps 66th Flight Training Detachment, which prepared pilots who would eventually fly in the 99th Pursuit Squadron. As director, Jackson guided the school to high standards of performance and on three different occasions, his students ranked first when compared to the other 22 schools in the Southeast Army Air Corps Training Command. He developed an aircraft computer called a NAV-KIT which was used by many pilots in obtaining their licenses.
In 1948, Jackson received his Master's Degree from Miami University, Oxford, Ohio, and 1950, a Ph. In Higher Education from Ohio State University. The title of his dissertation was A Study of Aviation Courses and Facilities in Higher Education in the United States with Predictions and Future Trends. " He spent a year as associate professor of Aviation at Ohio State University and wrote an unpublished book titled, "The New Fundamentals of Flight. Jackson's life was also dedicated to education as well as avitiation. He began teaching in 1936 in a one-room, eight-grade school.
After World War II in 1946, he began teaching at the college level, and served in many college and university administrative positions, including Graduate Dean, Dean of Students, Vice President for Academic Affairs, Acting President and President, Central State University, and Acting President and Vice President for Administration at Sinclair Community College. Jackson's great interests was in entrepreneurship. In 1974 he fostered the business entrepreneur program at Sinclair Community College.
He felt that more students should think as employers and thus be more self- reliant; that, in this way, students would be taught to create employment. He received many honors: Distinguished Alumnus Award, Indiana Wesleyan University Alumni Association; Frontier Award, First Frontier Inc. Pioneer, Achievement, Trail Blazer Award, Links, Inc.
Special Recognition, Ohio Department of Transportation, Division of Aviation and Federal Aviation Administration; Certificate of Appreciation, Xenia Area Development Corporation. He served a number of years as a member of the Greene County Regional Airport Authority and the Board of Directors of the Xenia Area Development Corporation. "An airplane in every garage" was a goal of Dr.
Until a few months before his death, he was still working on such a design that would accommodate the common man-an airplane which could be stored at home and towed or driven to the airport. In 1956 Dr Jackson created and flew the Versatile I (the first of ten experimental airplanes) developed to serve as both an airplane and a car. The idea was to drive it to the airport, take off, return, and then drive it home.
He died on January 8, 1994. Cornelius Coffey, Early Black Aviator.
Coffey, 91, a pioneer African-American aviator, was the first black to hold both a pilot's and a mechanic's license. For almost 50 years he helped open both occupations for blacks. A resident of the Lawndale neighborhood, he died Wednesday at Mt. Today, airplanes heading for Midway Airport pass a marker to Coffey's place in aviation history. They make a final course correction at a point over Lake Calumet that, in 1980, the Federal Aviation Administration named the Cofey Fix shortened to five letters because of FAA regulations. Coffey Aviation Education Foundation has been established to help train a younger generation. Born in 1903, months before the Wright brothers' initial flight, Mr. Coffey took his first airplane ride when he was 13.
In 1925, he enrolled in a South Side trade school to study automobile mechanics. With John Robinson, a fellow black mechanic, he shared a burning desire to fly. Commercial flying schools wouldn't accept them, but a black businessman lent the two a vacant storefront at 38th Street and Indiana Avenue, where they built a one-seat airplane powered by a motorcycle engine. They taught themselves to fly.
The Curtiss Wright School of Aeronautics accepted them in a mechanic's training program but wanted to return their tuition when it learned they were black. Emil Mack, a white man who ran an Elmwood Park auto dealership where they were mechanics, threatened to sue the school. Two years later, they graduated at the top of their class. After the war, he served as an instructor at the Lewis School of Aeronautics in Lockport and then at Dunbar Vocational High School, training some of the first blacks to be hired as mechanics by commercial airlines. Survivors include his wife, Ann.
Plans for a memorial service are pending. Get your own map of past buyers. This item is in the category "Collectibles\Cultures & Ethnicities\Black Americana\Photos".
The seller is "theprimitivefold" and is located in this country: US. This item can be shipped worldwide.