Antique Black Americana Photo Oval Bubble Glass 23 Tiger Wood Frame Negro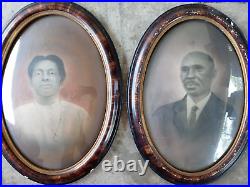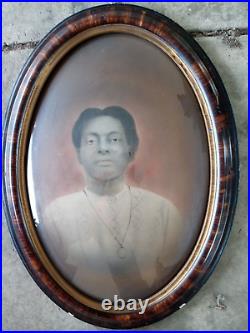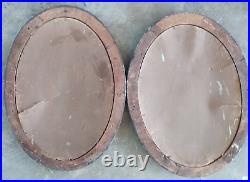 Antique Black Americana Victorian Bubble Glass Tiger Wood Oval Picture Negro Couple. These pictures of a Negro Couple possibly from the range of 1890s to early 1900s. It appears to be a affluent/wealthy couple, which was RARE for that time period in America.
For all HISTORY DETECTIVES, What could be very fun and possibly HISTORICALLY SIGNIFICANT is that I never peeled back the paper cover on the frame backs which might REVEAL the actual persons, the artist, and a more precise date. Antique Victorian Bubble Glass Tiger Wood Oval Picture Frame with Negro Couple in 2 Pictures. This is a oval wooden frame, it has a tiger pattern and bubble/convex glass. Approximately 17" inches in width by 23" inches in length. CONDITION: This is in GOOD condition with the drawing/pictures are wonderful renderings (1890s - 1900s) and glass in perfect condition , with frame containing some small chips to finish, and blue paint specks can easily be cleaned (30min-1hour) tops.
The pictures are part of the description, so please view all pictures.