Antique 1882 American George Fuller 1857/58 Al African American Cabin Painting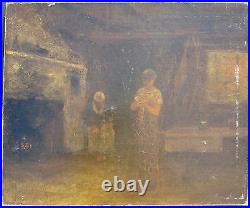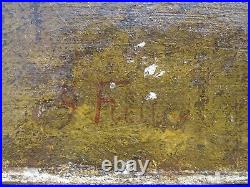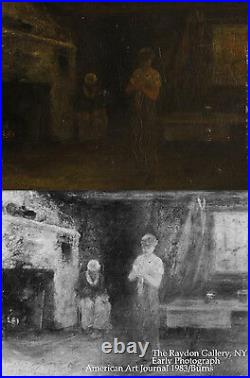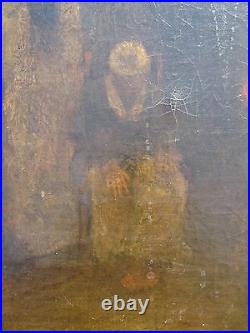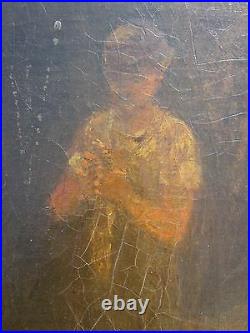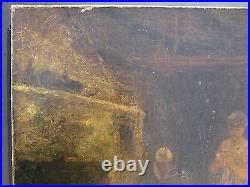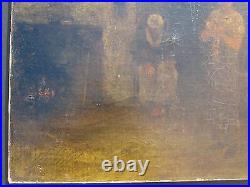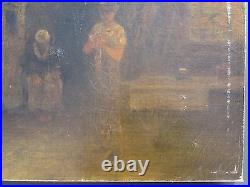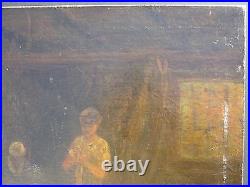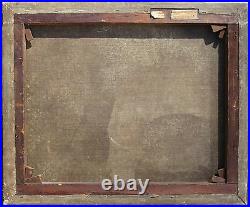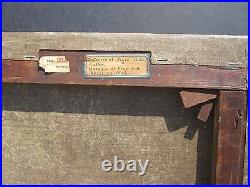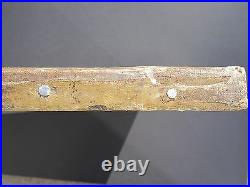 An exceedingly rare 1882 oil on canvas painting by American artist George Fuller (1822 - 1844) of the interior of an Alabama cabin in 1857 or 1858 titled "Interior of a Nexxxo Cabin" measuring approximately 20 x 24 inches. Fuller's works are owned by major institutions such as the Smithsonian, Metropolitan Museum of Art, Museum of Fine Arts Boston, and other major museums. There are few depictions of slavery by American artists, especially in oils. Third listed picture is for comparison purposes only.
See more details and my research below. The enslavement of African Americans and the persecution of Native Americans are horrible parts of American history and related artifacts should be preserved to prevent future events. Stable craquelure, grime, and convex indention to the right of seated, relined canvas with clear glue evidence en verso, gold frame paint remnant lower right, foldover upper left and other minor blemishes. Signed G Fuller lower left.
En verso has early 20th century paper label "Interior of Nxxxo Cabin, Fuller, Museum of Fine Arts Boston April 24, 1886"[error; should be 1884]; cut paper label with first three letters legible No. Picture"; and painted in red ink, "S. Created in 1882 (based on an 1858 sketch of an Alabama Interior scene).
Authenticated through comparison to published photograph from the Raydon Gallery, New York, contained on page 58 of IMAGES OF SLAVERY:George Fuller's Depictions of the Antebellum South. Sarah Burns, The American Art Journal (Summer 1983):35-60. Standing individual is holding a chicken with the subjects reflecting the light from the fireplace. A scarce depiction of slavery in Alabama in the 1850s.
George Fuller was born in 1822 on his father's farm in Deerfield, Massachusetts. He probably received artistic encouragement from his aunt, uncle, and half-brother, all of whom were painters. Returning home, he attended three terms at the Deerfield Academy before moving to Boston in 1840 to launch his career as an artist.
After a short, unfruitful experimentation with the daguerreotype process, Fuller became an itinerant portrait painter, traveling in upstate New York with his half-brother and aunt. In 1842 he spent several months studying in Albany with sculptor Henry Kirke Brown, a friend from Deerfield whom he had met on the surveying trip. For the next five years he executed portrait commissions, dividing his time between Boston and the interior of the state. He then moved to New York City, where he registered in the antique school of the National Academy of Design in 1848. He became an associate member of the Academy in 1853. His years in New York and Brooklyn (to which he moved by 1852) were interrupted by occasional summer trips to Deerfield and three excursions to the southern states, where he sought portrait work and made a series of genre sketches, with particular attention to the slave population. At the time, his circle of New York friends included adherents to the American Pre-Raphaelite movement, but aside from a characteristic carefulness of execution, his work does not seem to have been greatly influenced by Ruskinian precepts. Fuller's hitherto undistinguished career came to a halt, however, when his father died in 1859. The artist decided to move to Deerfield to manage the family farm, but he first took a six-month tour of Europe in 1860.
Upon his return, he married Agnes Gordon Higginson and settled down to raise cranberries and tobacco. Fuller intended his farming career to be short, but he ended by remaining at Deerfield for fifteen years, painting little and exhibiting only infrequently. In 1875, however, the price of tobacco fell and he was forced to declare bankruptcy.
Fuller's "second" career began the next year, when he exhibited a group of paintings in Boston in an effort to recoup his financial losses. Fuller's new canvases took as their subjects idealized female figures (particularly young girls), bleak rural landscapes, and vaguely historical Puritan themes. Fuller's surprising success was not limited to Boston.
Beginning in 1878 he sent pictures to New York annually. While his reception at the National Academy was unenthusiastic, the younger members of the Society of American Artists greeted him as one of their own, and he was soon elected to their membership. He continued to spend his summers there but took to passing his winters in Boston, or nearby on the coast. He died at his winter home in Brookline, Massachusetts, in 1884. [source: National Gallery of Art; This is an edited version of the artist's biography published, or to be published, in the NGA Systematic Catalogue].
IMAGES OF SLAVERY: George Fuller's Depictions of the Antebellum South, The American Art Journal / Summer 1983, Sarah Burns. Early in 1868, Fuller realized that he had not been represented at the National Academy of Design exhibition since 1857, when had sent in Portrait of a Lady (present location unknown). Now, very suddenly, Fuller concentrated on producing paintings for the 1868 show.
He remembered his Alabama drawings and his erstwhile aim to make his mark as a genre painter. In a letter to his old friend and mentor, the sculptor Henry Kirke Brown (1814 1886), Fuller wrote that he was doing Alabama (nxxxo) interiors from the sketches of ten years ago, and he was pleased with [his] efforts in this way.
A month later he wrote another old friend, the sculptor John Quincy Adams Ward (1830 1910), to announce that he intended to send five paintings to the National Academy of Design that year. In the end, however, Fuller sent only two Studies, Study of a head and Study from Nature (present locations unknown).
The 1870 Interior Nxxxo Quarters was most likely one of those scenes mentioned in the letter to H. Fuller had not finished it in time for the National Academy exhibition but continued to work on it over the next two years.
The remainder of Fullers black genre paintings date from the last decade of his life. They are: Nxxxo Boy with Goat, The Banjo Player, Turkey Pasture in Kentucky, Nxxxo Washing (1878 1883); present location unknown, Interior, Nxxxo Quarters, The Quadroon, Nxxxo Funeral, Alabama, Hoeing Tobacco. The known works, with the exception of The Banjo Player, display Fullers late style, which is broad, atmospheric, low-toned, and nebulous.
By this time, Fullers intentions had changed. He wished to make evocative, moody images rather than factual studies. Interior of Nxxxo Quarters is based on the third of the domestic interiors in the Alabama sketchbook.
In the painting the figure in the rocking chair is clearly the same, but most of the documentary detail has been omitted. Similarly, in Fullers Interior of a Nxxxo Cabin the room, the figure by the hearth, and the hearth itself are derived from the first of the Alabama interior drawings. The three black children have disappeared, and the center of the room is dominated by a light, girlish figure occupied with what may be a piece of knitting. A mellow brown atmosphere veils the scene and gives the figure a remote, shadowy quality. There is an utter absence of reportage. It is less a genre painting than a reverie on distant experience. With the exception of Turkey Pasture in Kentucky and The Quadroon, Fullers paintings of black life were little known. His trips to Georgia and Alabama were dismissed as interesting digressions by William Dean Howells, author of an important biographical sketch of the artist.
Several of the paintings appeared briefly in the Fuller Memorial Exhibition at the Museum of Fine Arts, Boston, April 24 May 13, 1884, and others were offered at the Administrators Sale of Fullers paintings, held at Chickering Hall, Boston, on May 9, 1884, after the artists death. Most critics reviewing the exhibition or attending the sale wrote nothing about the black genre pictures; they directed their comments to more famous and more typical examples of Fullers late style. 1886 Anthony Weston Dimock (New York). 2015 - A private Northeastern United States Estate. 1905 Exhibition of American paintings from the collection of John Harsen Rhoades, Esq.
At The Lotos Club, New York. December 23 and following days. 1923 The Metropolitan Museum of Art, New York, George Fuller Centennial Exhibition, April 9 May 20.
George Fuller: His Life and Works. George Fuller, American Barbizon Painter: A Study of his Life, Times and Works.
The Poetic Mode in American Painting: George Fuller and Thomas Dewing. Dissertation, University of Illinois at Urbana-Champaign, 1979. A Study of the Life and Poetic Vision of George Fuller.
The American Art Journal 13 (August 1981): 11-37. IMAGES OF SLAVERY:George Fuller's Depictions of the Antebellum South. The American Art Journal (Summer 1983):35-60.
1996 Kelly, Franklin, with Nicolai Cikovsky, Jr. Deborah Chotner, and John Davis. American Paintings of the Nineteenth Century, Part I.
The Collections of the National Gallery of Art Systematic Catalogue. The item "ANTIQUE 1882 AMERICAN GEORGE FULLER 1857/58 AL AFRICAN AMERICAN CABIN PAINTING" is in sale since Saturday, June 27, 2020. This item is in the category "Collectibles\Cultures & Ethnicities\Black Americana\Prints, Posters & Paintings".
The seller is "theprimitivefold" and is located in Villa Park, Illinois. This item can be shipped worldwide.