4 Mounted Photos Hat Moulding Machines Gage Hat Co. Factory Chicago Original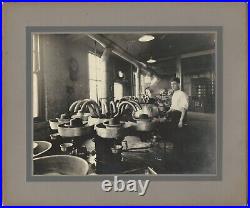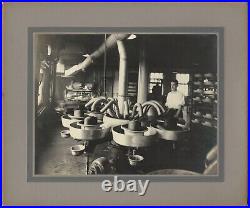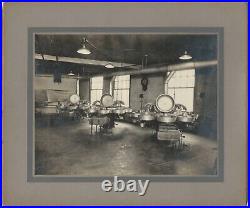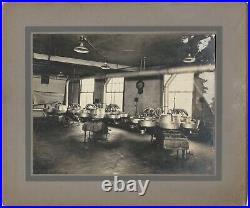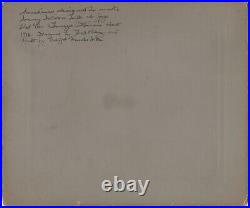 Four Cabinet Photos of Hat-Making / Moulding Machines at Gage Hat Co. A set of four images with an inscription on the back of one- Machines designed to operate Merry Widow Hats at Gage Hat Co. Designed by Fred [illegible] and built by Adolph Machine Ltd. Gage Brothers made hats for fashionable ladies; a period advertisement for the Merry Widow hat shows a wide-brimmed, flat-crowned hat with 3 pom-poms, or perhaps small, tame hedgehogs, on the brim.
These can also be clearly seen in the photos, sans the hedgehogs. The moulding machines remind me of something the Martian invaders in H. Wells''War of the Worlds' might have ridden in. Nonetheless, a wonderful look at Edwardian-era hat-making equipment, in situ. 12"x10" [mounts], 8.75"x7" [images]. One mount with some stains, overall light wear and minor soil. The image on the stained mount has some adhesion loss in that corner and a crease. Several other'bubbles' in the images. IMPORTANT INFORMATION FOR OVERSEAS BUYERS, PLEASE NOTE. Joslin Hall Books & Ephemera.
Member of the Antiquarian Booksellers Association of America the International League of Antiquarian Booksellers and the Ephemera Society.