1986 Red Hot Chili Peppers Original Members TYPE 1 Original Photo by Gershoff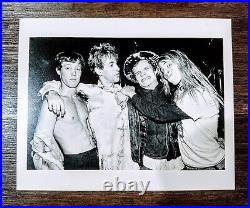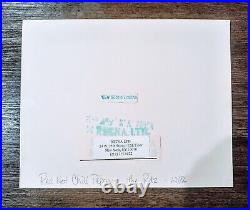 For sale is a Famous 1986 Type 1 Original Photo of the Red Hot Chili Peppers. In this awesome super early photo you see the original members of the band together getting ready to perform at The Ritz in NYC. From Left to Right you had Jack Irons, Hillel Slovak, Flea and Anthony Kiedis.
This would only be a little more than a year away from them losing Slovak to a horrific drug overdose. But living in that moment this band had a incredible bond and energy that would electrify a venue. This would catapult the Chili Peppers to go on to sell over 120 Million albums, 15 number one singles and 6 Grammys that landed them in the Rock and Roll Hall of Fame and a shiny star on the Hollywood strip. This famous moment was captured by Gary Gershoff who is a renowned Hollywood photographer.
This legend has featured his work many times in magazines like Rolling Stone, Time, People, Newsweek, The New York Times and the New York Post. This photo is dated December 12th 1986 and is Credited to "Gary Gershoff/RETNA LTD". The size is 8 x 10 inches and is in MINT CONDITION.
Please contact me if you have anymore questions about the photo since ALL SALES ARE FINAL. PLEASE STOP BY AND CHECK OUT ALL OF THE OTHER RARE PHOTOS AND VINTAGE ITEMS.