1897 PC, Ex-Slaves of Confederate Alexander Stephens, Dora Stephens to Eliza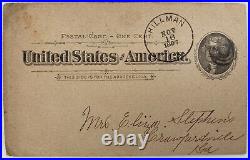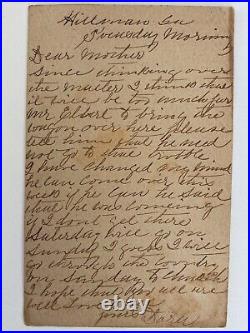 1897 PC, "Ex-Slaves" of Confederate Vice-Pres Stephens, Dora Stephens to Eliza. Impossibly rare 1897 postcard: Emancipated "slave" Dora Stephens writes to her mother, Eliza Stephens - likewise emancipated - at Crawfordville Georgia. They both resided at Liberty Hall, plantation home of the deceased Vice President of the Confederacy, Alexander Stephens.
Dora Stephens at that time was working as a care-giver for an aged friend of Alexander Stephens in Hillman, GA, just 9.5 miles from Crawfordville. 16, 1897, addressed to Mrs. Dora, who was born at Liberty Hall, is believed to have been fathered by Alexander Stephens. Stephens willed Eliza and Dora a life interest in Liberty Hall, where they lived until their deaths. Please read The Atlanta Journal's article The Black Family That Claims Alexander Stephens, Vice President Of The Confederacy As An ancestor.
Since thinking over the matter I think that it will be too much for Mr Elbert to bring the wagon over here please tell him that he need not go to that trouble. I have changed my mind he can come over this week if he can he said that he was comeing if I don't get there Saturday will go on Sunday.
I guess I will go through the country on Sunday to church. I hope that you all are well. Please see photos as they are an integral part of the condition report and ask any questions that you have about the item so that we can satisfy you. Southern Picker Antiques in Darien, GA.
My partner, John and I, for 40+ consecutive years, have never lost our enthusiasm for inspiring objects and art. Without art, there would be a lot of days I? D just stay in bed! Google: James Allen Southern Picker NYTimes to read a profile about us. We know you are looking forward to receiving your package.
This item is in the category "Collectibles\Cultures & Ethnicities\Black Americana\Photos". The seller is "we-buy-too" and is located in this country: US. This item can be shipped worldwide.