1881 Jubilee Singers of Fisk University Promotional Brochure Slavery Songs ORIG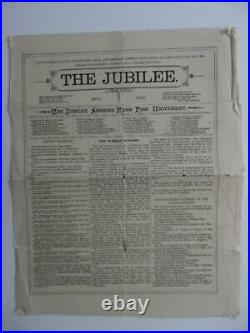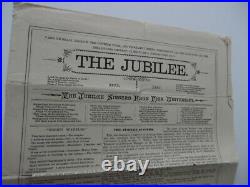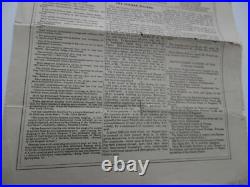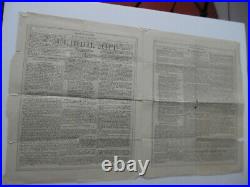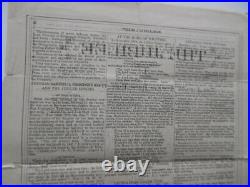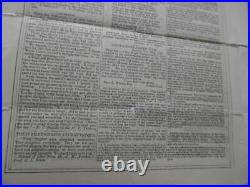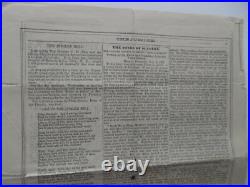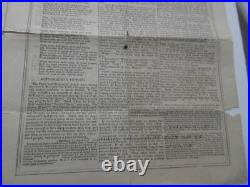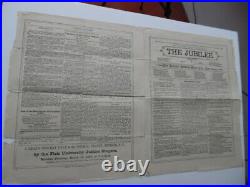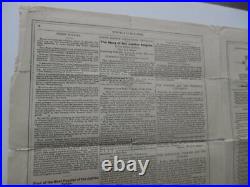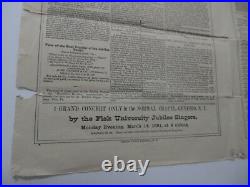 This is an original antique 1881 promotional brochure for The Jubilee Singers From Fisk University of Nashville, Tennessee. This is a four page pamphlet format measuring about 12 x 9.5. This brochure has an introduction to the Jubilee Singers naming all eleven members by name along with press notices, a list of distinguished patrons which included Presidents Grant and Hayes, Queen Victoria, European Royalty and others. Information on the history of the Jubilee Singers from their inception in 1871 is also given along with information about their Songs of Slavery and more. This brochure is printed "1881" just below the masthead and the back page is overprinted with date March 14, 1881 and shows the concert venue as Normal Chapel at Geneseo, New York. A Worldcat search locates no copies of this 1881 brochure. This brochure is an original antique issued in 1881. This brochure has been folded and shows some small chips and nicks on the edges and some creasing in places with small bit of separation on the fold lines in a few places. Overall condition is good plus. The following is some historical information on The Jubilee Singers of Fisk University from Wikipedia. The Fisk Jubilee Singers are an African-American a cappella ensemble, consisting of students at Fisk University. The first group was organized in 1871 to tour and raise funds for college. Their early repertoire consisted mostly of traditional spirituals, but included some songs by Stephen Foster. The original group toured along the Underground Railroad path in the United States, as well as performing in England and Europe. Later 19th-century groups also toured in Europe. In 2002 the Library of Congress honored their 1909 recording of "Swing Low, Sweet Chariot" by adding it in the United States National Recording Registry. [1] In 2008 they were awarded a National Medal of Arts. The Singers were organized as a fundraising effort for Fisk University. The historically black college in Nashville, Tennessee was founded by the American Missionary Association and local supporters after the end of the American Civil War to educate freedmen and other young African Americans. In 1871, the five-year-old university was facing serious financial difficulty.
On October 6, 1871, the group of students, consisting of two quartets and a pianist, started their U. Tour under White's direction. [3] They first performed in Cincinnati, Ohio. Over the next 18 months, the group toured through Ohio, Pennsylvania, New York, Connecticut, Rhode Island, New Jersey, Massachusetts, Maryland, and Washington, D. After a concert in Cincinnati, the group donated their small profit, which amounted to less than sixty dollars, to the relief to the victims of the Great Chicago Fire of October 1871.
[3][2] As soprano Maggie Porter recalled, We had thirty dollars and sent every penny to Chicago and didnt have anything for ourselves. " The mayor of Chillicothe, Ohio, expressed "thanks to these young colored people for their liberality in giving the proceeds of last evenings concert to our relief fund for the Chicago sufferers. [2] The group traveled on to Columbus, Ohio, where lack of funding, poor hotel conditions, and overall mistreatment from the press and audiences left them feeling tired and discouraged. The group and their pastor, Henry Bennett, prayed about whether to continue with the tour. White went off to pray as well; he believed that they needed a name to capture audience attention. The next morning, he met with the singers and said Children, it shall be Jubilee Singers in memory of the Jewish year of Jubilee. [2] This was a reference to Jubilee described in the book of Leviticus in the Bible. Each fiftieth Pentecost was followed by a "year of jubilee" in which all slaves would be set free. [3] Since most of the students at Fisk University and their families were newly freed slaves, [5] the name "Jubilee Singers" seemed fitting.
The Jubilee Singers' performances were a departure from the familiar "black minstrel" genre of white musicians' performing in blackface. One early review of the group's performance was headlined "Negro Minstrelsy in Church--Novel Religious Exercise, " while further reviews highlighted the fact that this group of Negro minstrels were, oddly enough, genuine negroes. "[6] "Those who have only heard the burnt cork caricatures of negro minstrelsy have not the slightest conception of what it really is, Doug Seroff quotes one review of a concert by the group as saying.
[7] This was not a uniquely American response to the group's performance, but was typical in audience receptions in Europe as well: From the first the Jubilee music was more or less of a puzzle to the critics; and even among those who sympathised with their mission there was no little difference of opinion as to the artistic merit of their entertainments. Some could not understand the reason for enjoying so thoroughly as almost everyone did these simple unpretending songs. As the tour continued, audiences came to appreciate the singers' voices, and the group began to be praised.
The Jubilee Singers are credited with the early popularization of the Negro spiritual tradition among white and northern audiences in the late 19th century; many were previously unaware of its existence. In early 1872 the group performed at the World's Peace Jubilee and International Musical Festival in Boston, and they were invited to perform for President Ulysses S. Grant at the White House in March of that year. [3][4] They gave a separate performance in Washington, D. For Vice President Schuyler Colfax and members of the U. They traveled next to New York, where they performed before enthusiastic audiences at preacher Henry Ward Beechers Plymouth Church in Brooklyn and at Steinway Hall in Manhattan. [4] They garnered national attention and generous donations.
In a tour of Great Britain and Europe in 1873, the group, by then with 11 members, performed "Steal Away to Jesus" and "Go Down, Moses" for Queen Victoria in April. [5] Named Jubilee Hall, the building was designated a National Historic Landmark in 1975 and still stands. The original Jubilee Singers disbanded in 1878 because of their grueling touring schedule. As Ella Sheppard, one of the original Jubilee Singers recalled, our strength was failing under the ill treatment at hotels, on railroads, poorly attended concerts, and ridicule.
" Porter also said, "There were many times, when we didnt have place to sleep or anything to eat. White went out and brought us some sandwiches and tried to find some place to put us up. " Other times while the singers would wait in the railway station, White "and some other man of the troupe waded through sleet or snow or rain from hotel to hotel seeking shelter for us. A new Jubilee Singers choir was formed in 1879 under the direction of George L. White and singer Frederick J. [14] This troupe, formed by White, consisted of Jennie Jackson, Maggie Porter, Georgia Gordon, Mabel Lewis, Patti Malone, Hinton Alexander, Benjamin W. Hall, Mattie Lawrence, and George E. Cushing was the agent who managed their bookings. The original Jubilee Singers introduced slave songs to the world in 1871 and were instrumental in preserving this unique American musical tradition known today as Negro spirituals.
They influenced many other troupes of jubilee singers who would go on to make their own contributions to the genre, such as the Original Nashville Students. They broke racial barriers in the US and abroad in the late 19th century.
In 1999, the Fisk Jubilee Singers were featured in the documentary Jubilee Singers: Sacrifice and Glory, which aired on PBS' American Experience. [15] In July 2007, the Fisk Jubilee Singers went on a sacred journey to Ghana at the invitation of the U. It was a history making event, as it was their first time visit to Ghana. In 2008, the Fisk Jubilee Singers were selected as a recipient of the 2008 National Medal of Arts, the nation's highest honor for artists and patrons of the arts.
The award was presented by President George W. Bush and First Lady Laura Bush during a ceremony at the White House. Fisk University commemorates the anniversary of the Singers' first tour by celebrating Jubilee Day on October 6 each year. If you have questions about how to pay for this item please let me know. The item "1881 Jubilee Singers of Fisk University Promotional Brochure Slavery Songs ORIG" is in sale since Monday, November 1, 2021.
This item is in the category "Entertainment Memorabilia\Music Memorabilia\Folk". The seller is "timomills" and is located in Lincoln, Nebraska. This item can be shipped worldwide.
Country/Region of Manufacture: United States
Culture: Black Americana