1862 Slave Trader Letter Angola Africa Ship Triangle Trade Slavery Manuscript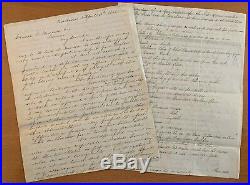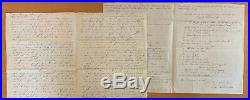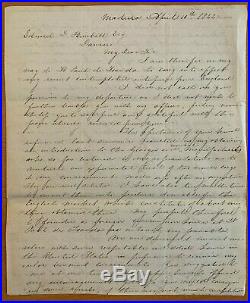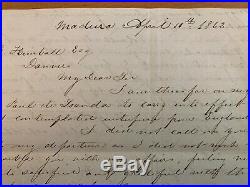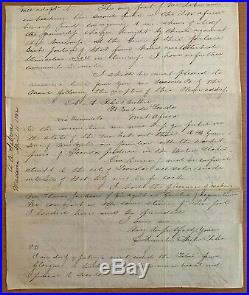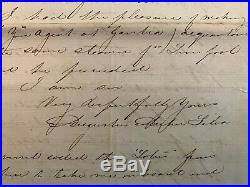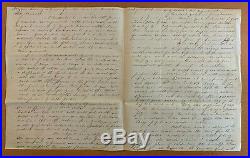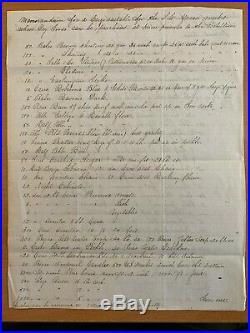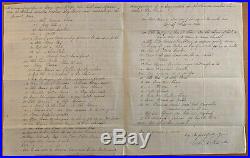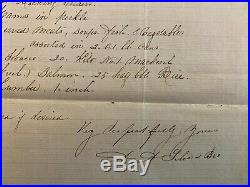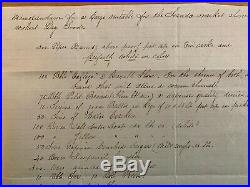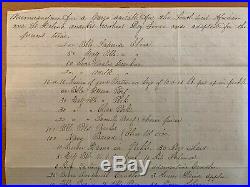 The letter is from Brazilian-American maritime merchant, Augusta Archer Silva, and recent scholarship has shown Silva's active role in the illicit slave trade in Angola at this time. Silva is on the North coast of Africa, in Madeira, Portugal (en route to his base in Angola), writing to Salem, Mass. Kimball, regarding consigning vessels, and proposed cargoes for Southwest Africa, St. Silva requests consignment of vessels, and proposes a new system of cargoes, eliminating the 3-4 month lag in port. The 4-page letter is accompanied by his 3-page manuscript memorandum for cargoes, as mentioned in the letter.
Madeira, [Portugal] April 10th, 1862. Paul de Loanda to carry into effect my recent contemplated enterprise from England. I did not call on you previous to my departure as I did not wish to further trouble you with my affairs, feeling nevertheless quite satisfied and grateful with the favors already received from you. - - your kind reference last summer resulted in my obtaining an introduction to the Glasgow and Manchester Manufacturers who so far listened to my representations as to venture an experimental trial of two vessels cargo to my consignment- made up after my suggestion. They are well - I have also ten months time to convert them into produce desirable for the English market which constitutes of about everything obtained there. My prospects therefore to founder a foreign commission house at St. Paul de Loanda (Angola) are - favorable. We are desirous to invest our-selves with some respectable and solid house in the United States in preparation to receive irregular transient consignments.
You suggested to me at one time that when business offered any encouragement perhaps you would consign us some vessels, if there were not much competition, Wiggin having retired from the business Brookhouse solely remains. Notwithstanding we have the promise of several consignments with one actually on the way out owned by George W. Your being of such a nature my intent dictates the selection? Of the consignments from you under the following circumstances, which of obtained we will deliver all the other American consignments. Our interest being dependent on the success of our - we feel confident our knowledge and experience , and will plans will accomplish the most pleasing results.
To realize which we only - an experiment. Our last quotation from Loanda are of January 8th/62.
Rum is quoted at 72 cts pr Gall. Followed by the price of flour, bread, sugars, palm and fish oil, Pea nuts, coffee, etc. You may perhaps think a single vessel to perform the voyage round would be but for an experiment. I disagree with you and with the following observations show you why many have not heretofore succeeded in the business. Most every vessel is obliged to wait for her return cargo on the coast from three to four months.
Would it not be better policy to employ this waste of time by adopting my proposed plan of conducting business? My English friends have thought favorably of it, and will adopt it. The very fact of Mr. Robinson embarking the second time in the SW African business and consigning to us shows itself the groundless charges brought by them against the business. At the time of their failure each partner of that firm have reestablished themselves well in business.
I have no further comments to make. Paul de Loanda West Africa, via Fernando Po. In the mean time we will keep you posted on the state of the market out there. Greene & Sons of New York are familiar with the market prices of Loanda produce in the United States.
Our business will be confined to the city of Loanda all sales made outside of that city will be for cash. I had the pleasure of making Mr. Thomas Jacksons (Your agent from Gambia) acquaintance. We came out in the same steamer from Liverpool. I landed here and he proceeded.
Docketed in period manuscript by Kimball: A. Silva Madeira April 11, 1862.
Together with Silvas 3-page manuscript Memorandums for Cargoes to Southwest Africa, St. Helena, and Loanda [capital city of Angola]. The memorandums list dozens of commodities, foods, furniture, etc. Including tobacco, pipes, rum, bread, soaps, muskets & gunpowder, candles, sugar, ham, mackerel, beef, pork, textiles, etc.
Both letters are on single sheets, folded to form 4 pages (measuring 10.5 x 8.5), with writing on 7 pages. Creased at old folds, few tears; very good.
Augustus Archer Silva was a Brazilian-born, naturalized American citizen, who ran a successful maritime trading house active in Luanda, Angola, and is said by several scholars to have directly participated in the illicit slave trade in Angola. He also served as Vice-Consul of the Brazilian Empire in Angola, between the years of 1865 and 1877. His role was marked by conflicts and disagreements over the collection of the spoils of Brazilian subjects who died in Angola see F. For references to Silvas role in the slave trade, see Horne, Deepest South: The United States, Brazil, and the African Slave Trade , p. 260, noting Silva was also a major slave dealer in partnership with another U.
National, John Willis, John Sparhawk, and Robert Brookhouse. They were part of a relatively large U. Between 1840 and 1860, the U. Lagged behind only Portugal and Brazil in the number of ships entering this port.
Brookhouse, based in Salem, Mass. Was a major economic force in Angola. Major slave dealers in Angola were part of a slaving circuit, citing C.
Roquinaldo Ferreira, Slaving, Trade, and Creolization in the Black Atlantic. Frederico Antonio Ferreira, Augustus Archer Silva, Between the Past and Future of Relations Between the Empire of Brazil and Portuguese Africa, in Revista Transversos , No. Silva also gained fame as the first person to steam navigate the Cuanza River in Angola.
The letter and memorandum of cargo do not reference slavery in any way, but several sources of current scholarship point to Silva's undeniable role in the abhorrent & illicit slave trade in Angola. His vessels sailed all over the US, and to Africa, the East Indies, Pacific Islands, South America, Australia, and Asia.
He also served as Mayor of Salem, Mass. And in the leadership of the Naumkeag Bank and the Naumkeag Steam Cotton Company. It is not suggested anywhere that Kimball had any direct connection to the slave trade, other than having participated in portions of the African triangle trade, mainly sending textiles and other cargoes to coastal Africa. We have been a family business for more than 30 years. We focus on rare books, ephemera, early photography & vintage textiles. The item "1862 SLAVE TRADER LETTER ANGOLA AFRICA SHIP TRIANGLE TRADE SLAVERY MANUSCRIPT" is in sale since Wednesday, November 13, 2019. This item is in the category "Collectibles\Cultures & Ethnicities\Black Americana\Paper". The seller is "mainstreetbooks" and is located in Amherst, Massachusetts. This item can be shipped to United States, all countries in Europe, Canada, Japan, Australia.